Bimeda Limited
About Bimeda in Kenya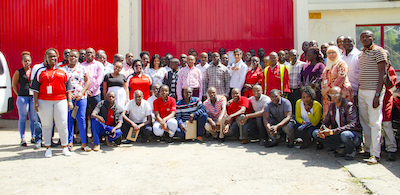 Bimeda is a global manufacturer, marketer and distributor of veterinary pharmaceuticals and animal health products. Bimeda Limited (Kenya) is part of the wider Bimeda AMEA business unit, which has a strong presence across the Africa, Asia and Middle East regions.
Bimeda Limited is one of the largest veterinary pharmaceutical manufacturers and distributors in Eastern and Central Africa.
The Kenyan business headquarters is situated in Nairobi, where our sales, marketing, HR, finance and logistics functions are based. In addition to our office, Nairobi is home to our distribution facility, from which products are supplied to the entire Central and East African region.
Our product range is broad, with products licensed for species including cattle, sheep, pigs, poultry, camels, goats, horses and dogs. Our portfolio includes a wide array of product categories, such as acaricides, anthelmintics, antimicrobials, vaccines, hormones, nutritional products, bull semen, anti-inflammatories, anti-East Coast Fever injections and more.
Our product portfolio consists mainly of Bimeda branded products, which are manufactured in the EU, USA and Kenya and we are compliant to all EU and GMP quality standards.
We are passionate about animal health and the Bimeda sales and technical team are committed to helping our customers and end users to optimise the health, welfare and productivity of their livestock, through animal husbandry training initiatives.
Bimeda is also committed to our local community and support numerous community initiatives, such as the NRCA (Ngong Road Children Association).
We are committed to our mission of being the leading distributor or quality and cost-effective animal health products, which meet the needs of our customers in maintaining the good health and productivity of their livestock.